ELLIOTT SHARP :
opera/theater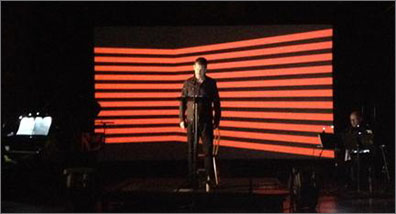 PORT BOU
Premiered at Issue Project Room, Brooklyn, October 2014. The opera depicts the final moments of philosopher Walter Benjamin's life in Port Bou at the French-Spanish border as he flees Nazi-occupied France. From his studies of Benjamin's texts and letters, Sharp has created a dramatic interpretation of Benjamin's internal reality on his last day, drawing reference to the hugely influential author's key works including The Work Of Art In The Age of Mechanical Reproduction, The Task of the Translator, and The Arcades Project.

Starring the extraordinary bass/baritone Nicholas Isherwood, with pianist Jenny Lin and accordionist William Schimmel, and prerecorded electro-acoustic backgrounds by Sharp.
Video projections by Janene Higgins provide the set and staging, as well as subtext and commentary.
NY TIMES 10/21/14:
Scored for accordion (William Schimmel) and piano (Jenny Lin) and blended with pre-recorded electroacoustic music, the soundtrack aptly mirrored Benjamin's state of mind: eerie, haunted and at times cacophonous.

Mr. Sharp's libretto was inspired by Benjamin's letters and texts, including major works like 'The Work of Art in the Age of Mechanical Reproduction,' 'The Task of the Translator' and 'The Arcades Project.'

…Benjamin, performed with fierce commitment by the bass-baritone Nicholas Isherwood, sang lines like "Four walls to keep them out, four walls to keep me in."
Mr. Isherwood vividly conveyed the stream-of-consciousness monologue, with its biblical lines in Greek; excerpts from kabbalah; German profanities; guttural, gasping noises; and philosophical observations.

...Compelling components, like the alluring projections by Janene Higgins, depicted naturalistic and historical elements in fast-moving succession.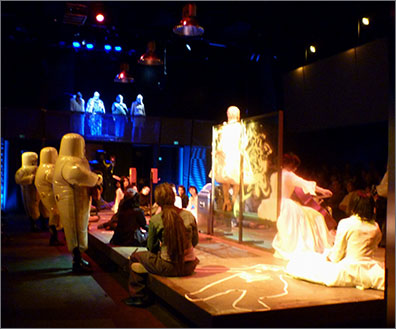 ABOUT